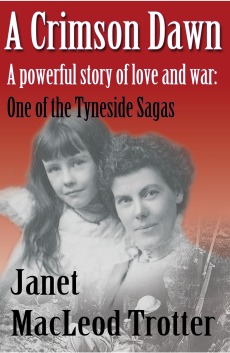 #ad

#ad
A CRIMSON DAWN
*An Amazon Kindle Bestseller*
Available in ebook and paperback, published by MacLeod Trotter Books.
Available in paperback ISBN 978-1-908359-16-2
Available as an ebook ISBN 978-1-908359-15-5
Available in audio (published by Soundings) ISBN 1-84559-200-X
Available in large print, published by Magna, ISBN 0750525002
Paperback available from Amazon.co.uk

Available to buy on-line for Amazon Kindle from Amazon.co.uk and Amazon.com
Available to buy on-line for most other e-book readers from Waterstones
** This book has been rated in the Heatseekers Top 20 Fiction Best Sellers list for 4 weeks running. (Data compiled by Nielsen Bookscan)

A powerful saga of love and war.
Emmie Kelso is only nine years old when she's rescued from a dingy Gateshead tenement. Sent to Crawdene, a mining village on the fell, she's taken into the vibrant, loving household of the MacRaes and brought up as one of their own. Blossoming into an intelligent and spirited young woman, Emmie is soon swept off her feet by handsome miner Tom Curran but it's only after their wedding that she learns of his possessive, violent nature.
As war engulfs Europe in 1914, the community divides. Tom enlists and despite his disapproval, Emmie joins the MacRaes, among others, in their cries for peace. Working with those opposed to the war, Emmie finds herself alongside Rab, the MacRaes' eldest son and a conscientious objector, and their childhood devotion to each other sparks into a love too strong to hide. But as the war worsens, the atmosphere grows ever more tense. Women hand out white feathers to those refusing to defend their country and Rab, arrested as a 'conchie', faces the ultimate penalty. And when a brutalised, war-weary Tom returns home, there's trouble ahead. The war may be drawing to an end, but Emmie's fight for happiness is only just beginning ....
Janet was inspired to write about conscientious objectors in the First World War, because of her recent experience as a peace activist.
"At the time when I was going on peace protests to try and stop our country invading Iraq, I was researching the First World War. I wondered what had happened to the widespread women's movement for emancipation that was stopped abruptly by the outbreak of the Great War.
What I discovered was that many of the groups did not disband, despite their leadership telling them it was their patriotic duty to get behind the war effort. Many brave women, against the jingoism whipped up by the government, stood out against war and kept in touch with their fellow campaigners in the 'enemy' countries. They saw it as an imperialist war that was all about grabbing colonies and resources. Ordinary people on both sides were being asked to do the fighting to support a system in which they were the victims.
Amazingly, some of these women held a peace conference in 1915 to try and bring a negotiated peace to Europe. If they had been listened to, millions of lives would have been saved.
The more I delved into this fascinating, over-looked piece of history, the more my admiration grew for these long ago peace campaigners - socialists, pacifists, Non-Conformists, Quakers and suffragists - whose ideals are still so relevant today.
Each month, I help organise a peace vigil in my home town of Morpeth, to remind people that peace is something for which we have to strive and work towards every day, not just on the eve of invasion. Big governments put huge effort and resources into planning and carrying out war. We look for the day when they'll put as much effort into planning for peace.
However daunting and impossible the task may seem, I take courage from our forebears who thought nothing of being vilified or imprisoned during the First World War for their determination to put a stop to the carnage.
Anyone interested in joining us?! We meet in Morpeth market square on the 11th of every month (the day the war-to-end-all-wars was supposed to be) from 5.30-6.30pm.'
Reviewers Comments:
'It's another action-packed, emotionally-charged page-turner from the Morpeth author.'
Newcastle Journal.
'Another cracking tale from the author of the trilogy based on the life of Catherine Cookson.' [4 star rating]
Sunderland Echo.
'Dramatic, powerful story of love and war.' [5 star rating]
Bournemouth Daily Echo.
Readers E-mails:
'It's a brilliant book. The story is about the First World War. There's plenty of hatred and violence by Emmie's husband that made me feel taut and gutted - it was chilling reading. I loved the characters of Emmie and Rab, they are marvellous. When I finished the book I felt numb - it was a superb story - well done Janet!'
G. Innes - Newcastle.
'I have just finished reading A Crimson Dawn from the Home Library. I just felt I had to tell you how much I enjoyed it. I thought it was the best you have written. I have enjoyed reading all your books, but this I felt surpassed the others, in my opinion. Hope to read many more.'
D.S. - Walkerville, Newcastle.
Just a quick email to say I really enjoyed reading your latest book very much.
I particularly liked when it got to the second half where the war started. It was also nice to read a different perspective of the war in as much it was about being a conchie and made it more of a different story than the usual sagas. I like to read about the early years pre w w 1 the 20's and 30's more than the second world war as everyone seems to pick this to write about in sagas and while I still read them I have found I prefer the in-between years. I also think your research must be more thorough than most as well. I am already looking forward to your next book I hate getting to the end of a good book it's like getting to the end of a lollipop.
H.D.
Hi, Just seen on the Internet that you have a new book coming out soon.
I do so love your books as I now live in Australia, reading books about the North East, is like coming home on holiday. Thank you so much.
Regards from Ann Hansen
If you would like to write to Janet by e-mail with your comments about this or any other book, please use this e-mail link: janet@janetmacleodtrotter.com