Janet's new Scottish historical novel, THE JACOBITE LASS, is due out soon.
Inspired by the life of Highland heroine, Flora MacDonald, the novel will be available on Amazon Kindle on 12th Sept and as a hardback from the 26th Sept.
In researching the novel, Janet tracked down places where Flora had lived on the Outer Isles of Scotland and the Isle of Skye, to get a feel of the way she lived.
---
956 readers entered the Goodreads Giveaway to receive copies of NO GREATER LOVE, the novel about British suffragettes inspired by martyr Emily Wilding Davison, whose centenary it is this year.
Congratulations to the ten winners! Your free copies are winging their way to you now.
Jessica Semple from Canada
Satı Karabaş from Turkey
Tracy French from Canada
Marion King from the UK
Anoop Nambiar from India
Nadria Green from the US
Sharon Rozier from the US
Jose Aguilera from the US
Kurt Bembridge from the US
May Harrison from the US
I hope you enjoy the novel!
All the best,
Janet
---
Janet has published a new edition of one of her suffragette novel to help mark the 100th anniversary of the death of famed women's rights campaigner Emily Wilding Davison.
She has brought out his special edition, NO GREATER LOVE to help her home town, Morpeth in Northumberland, record the centenary of the suffragette's death in June 1913. Emily is buried in the churchyard of St Mary's in Morpeth.
Read more: Journal Live
---
THE TEA PLANTER'S DAUGHTER – was one of Amazon UK's top selling ebooks in 2012!
It was No. 9 in their top 10 best sellers for ebooks published directly with Amazon.
So Janet celebrated with several cups of tea!
---
Out and about with Janet and husband Graeme
| | | |
| --- | --- | --- |
| | | |
| Janet modelling her hippy clothes at the Middlesbrough Literary Festival! | Janet and Graeme get into role at their talk to Friends of Ryton Library, summer 2012 | Janet & Graeme lead a hands-on session with the visually-impaired readers at Sunderland Library, summer 2012 |
---
Janet: 'On Saturday I attended the Society of Authors in Scotland Conference (http://www.societyofauthors.org/) on the brave new world of e-books, social media, self promotion and the road ahead in publishing - billed as Information and Inspiration: everything a writer needs. Phew!
It was a wham-bam action-packed day with a host of good speakers and panels, specialist group options in the afternoon and plenty of coffee breaks to keep us wired up. Held in a modern annex of the superb Palladian Royal College of Surgeons (just down from Clerk Street where I lived as a student - how was it possible that I hardly gave it a glance for 4 years? Perhaps because it didn't serve pints of Belhaven...)
At lunchtime there was an option of a quick guided tour by charming Prof Dugald Gardner, who introduced us to the work of surgeon-artist Charles Bell. Fascinating portraits of gunshot wounds from the Napoleonic Wars and specimens in jars that made me wish I'd woolfed down fewer sandwiches ten minutes earlier.
I went because I have girded my digital loins and entered the arena of ebook publishing. I think I'm what Keith Charters of Strident Publishing is what you'd call 'an early adopter' on the bell curve of e-publishing - my Jarrow Trilogy are numbers 1,2 and 3 on the Kindle Family Saga bestsellers. So what did I learn…?'
To read the full article go to Janet's blog:
http://janmacleodtrotter.blogspot.com/ posted Monday 19th September 2011
---
FAMILY FACES - turning relations into fictional heroines
Great Aunt Lizzie
Janet: 'I've been spending an interesting time turning some of my bestselling sagas into ebooks and having new covers designed. To make the books more personal, I have delved into the archives of family photo albums and chosen relations to illustrate my heroines!
For example, on the cover of The Suffragette is a photo of my great grand-aunt Elizabeth Maclagan, sister to my great grandmother Janet Gorrie who was a suffragette supporter in Edinburgh. I don't know if Elizabeth got involved herself, but she had three nieces who were campaigners for the Pankhursts' WSPU.
For the Jarrow Trilogy, I have used other Maclagans on the fronts of The Jarrow Lass and A Child of Jarrow, chosing women from the right era for 19th century and Edwardian periods.
My Lovely Mum
But for the third and final novel, Return to Jarrow, which is set in the 30s and 40s I have used a delightful picture of my own mother. She was a young woman in the 1940s and embarking on an acting career, so is very photogenic. I will be using her again – alongside my Dad for the cover of A Handful of Stars!'
---
Whether hitting the trail with The Vanishing of Ruth or taking part in author panels with northern members of the Romantic Novelists' Association, Janet has been touring the North East. Often in libraries, occasionally in the pub and even a return visit to Durham School where she grew up and where husband Graeme was a pupil. He came along and gave readings too – poacher turned gamekeeper perhaps?!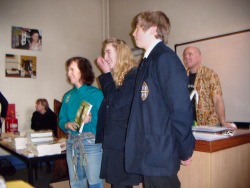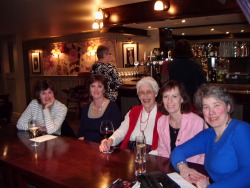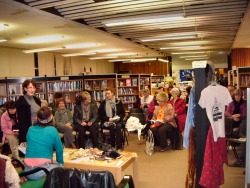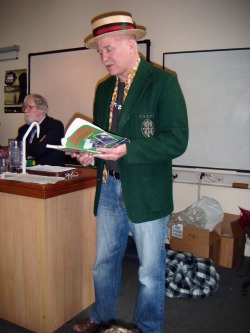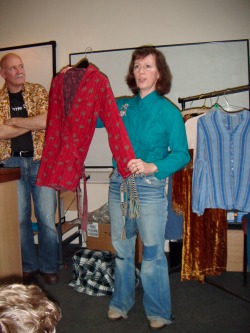 Feedback from audiences:
'Excellent, and so funny, made me laugh and smile a lot.'
'Very interesting & I liked the format. Great night! Thank you'
'Pleasant, informative, interesting. Relaxed and informal atmosphere'
'Very interesting, charmingly presented in such wonderfully lively and versatile ways, great acting and reading skills. And such descriptive, pithy writing! Thank you. A real joy. A super evening.'
'An entertaining evening. A reminder of the story, which I read a while ago.'
'Well presented! Original material and informal; enjoyable role play reading of extracts. Wine made more of an occasion of the event. V grownup!'
'The Vanishing of Ruth is a fab story and it was fascinating to hear the source material and be able to relate it to the book. ;They both read beautifully.'
'It really was an interesting and enjoyable event and thank you so much for bringing it to the City Library. We were delighted with it and the customers were too. The style was fresh and entertaining and the items you came with were fascinating and helped to bring the story to life as did dressing up as characters when reading extracts from the book. Everyone thoroughly enjoyed it.'
---
WORLD BOOK NIGHT - the creme de la creme of events!
Janet: 'The first World Book Night turned into a fantastic opportunity for me to get dressed up in fancy dress - any excuse will do!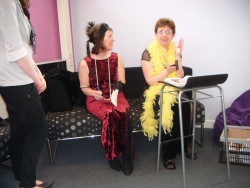 I was involved in two events in the region, the first as a 'giver' of The Prime of Miss Jean Brodie at Morpeth Library. With the help of librarian Lynne Riddell and her team, the library laid on a 1930s style experience with fruit cocktails served while I gave readings from Muriel Spark's superb coming-of-age novel set in 1930s Edinburgh. Lynne and I donned vintage evening wear to show that it is not just Jean Brodie who is still in her 'prime'!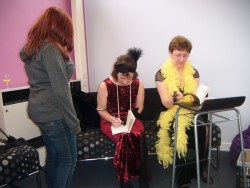 We encouraged teenagers to come along and discover this great story - several students from KEVI (King Edward VI High School) attended - as well as more mature readers. As an audience I would rate them the 'crème de la crème!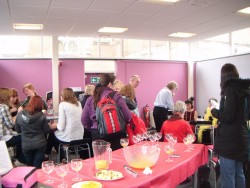 Each went away with a copy of the book - many for daughters in other parts of the country - and it is hoped they will pass their copies on (registering their unique number on the World Book Site) so that the novels can be tracked to see how far they go. Jean Brodie - an enthusiastic traveller and teller of tales - would have approved.
From Morpeth I rushed home and changed into my 1970s overland hippy gear and headed for Waterstones in Newcastle to help them celebrate WBN by chatting to customers and signing copies of my mystery novel, The Vanishing of Ruth set on the overland route to Kathmandu. There was a good buzz about the shop - only slightly marred by the news that Newcastle had lost to Everton at St James's Park just along the road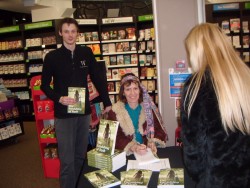 Organiser Cameron and his team made us very welcome and I shared the event with Lib Dem politician, Chris Foote-Wood, who was promoting his new biography of T. Dan Smith.
---
WORLD BOOK NIGHT - reunion of two Durham authors!
The WORLD BOOK NIGHT event at Waterstones in Newcastle at the weekend brought together two authors with ties to Durham.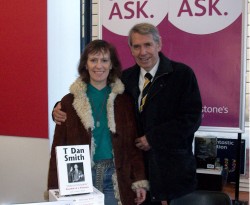 I hadn't met Chris Foote Wood since the days in the 1970s and 80s when he used to campaign with my mother Sheila MacLeod in local politics for the Durham Liberals.
So it was with great surprise that we found ourselves both at Waterstones doing signings on the same evening! Chris is still active in politics and was promoting his political biography of T Dan Smith while I was re-living my hippy days and signing copies of mystery novel THE VANISHING OF RUTH set on the overland route to India.
---
A Podcast of Janets' recent visit to Newcastle City Library, talking about The Vanishing of Ruth and her current work, is available from the Library Website
---
JANET HAS STARTED A FACEBOOK PAGE CALLED OVERLANDERS
On it you can find updates on her mystery novel and memorabilia about her trip to Kathmandu in 1976.
---
JANET HAS STARTED A BLOG FOR BOOKS AND TRAVEL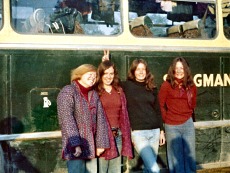 She is blogging about her overland bus trip to Kathmandu which she took in 1976, having just left school.
Janet writes: "This blog is for those who love both books and travel (or simply like to indulge in armchair travelling with a pile of books by the side!) I'll highlight things of interest in the book world and also of independent travel. I'm starting by travelling back in time to the 1970s and the overland trail to India which I took as an 18 year old, just out of school. Have a look at my daily diary entries and photos. Some of these places are impossible to visit at the moment, but I can give you a flavour of what they were like in the golden age of the hippy trail."
In the blog she is also reflecting on her family's links with India, where her Scottish Gorrie grandfather worked for the Indian Forestry Service from the 1920s to 40s.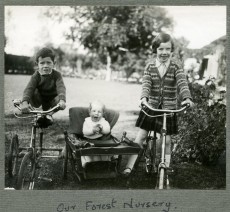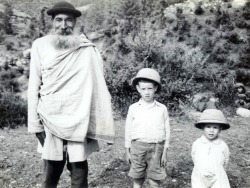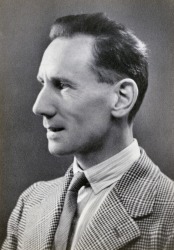 Readers' reactions –
'A true Intrepid. I do envy you, and I love your diary entries and photos.' – Rory MacLean, Germany
'Excellent' – Emma, UK
'Hi Janet read your diary great stuff I wish I had had the courage when younger. I can't wait to read the book. The photographs were wonderful I felt a little of what it must have been like to be there. What wonderful memories you must have.' – Margaret, UK
'Fascinating – how very adventurous.' – Sue, UK
'I am awash in nostalgia – great stuff!' - Debbie, New Zealand
'Found it fascinating. Going to pass it on to some friends.' – Tom, USA
'Looks excellent, and I look forward to reading more about your travels.' Vicky, UK
'Just looked at your new and exciting diary. It is fascinating and makes me wish I had been brave enough to go on such travels.' – Wendy, UK
'I'm absolutely loving the diary.' – Rob, UK
'Excellent stuff. You were far more adventurous than I was at 18.' – Mikael, USA
'Really interesting and I got a real feel for the places you visited and will look out for more posts.' – Belinda, UK
---
THE VANISHING OF RUTH GIVEN THUMBS UP BY NORTH EAST READING GROUPS
OVERLANDERS, JANET AND GRAEME ROLLED INTO MORPETH LIBRARY LAST NIGHT TO FACE THEIR READERS!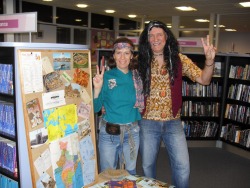 Several North East Reading Groups have been trialling pre-publication copies of Janet MacLeod Trotter's new mystery THE VANISHING OF RUTH - and last night Morpeth Library hosted a feedback evening to let them have their say.
With a glass of wine in hand, the guests were treated to readings from the diary and letters from Janet's original trip, as well as readings from the novel by husband Graeme posing as the fictional driver Cassidy.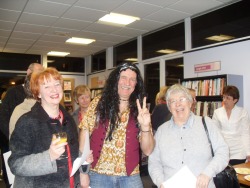 And the novel was given the thumbs up - 94% of those who gave written feedback said they would recommend it to other reading groups.
Here are just a few of the comments:
''Loved the book – couldn't put it down!'
'I would strongly recommend this book as a good read.'
'Wonderful. Kept me guessing all the way through. A pleasure to read.'
'I thoroughly enjoyed this journey through time and distant lands without leaving the comfort of my armchair. The contrast between the Victorians, the hippies and the modern day story was fascinating.'
'Interesting characters, great plot, nice mix of the feel and texture of the story.'
'I think everyone who read it enjoyed it. Nothing and no one is quite as it first appears. I would recommend it to another reading group.'
'Love the era that it's about and gives a real feel of that era.'
Next week they journey to Hexham Library for another feedback evening, and then next month it's off to THE LONDON BOOK FAIR ...!
---
DECEMBER 15TH 2009 JANET OPENS NEW LIBRARY IN NEWCASTLE
The queen may have recently opened Newcastle's Central Library but Janet had the happy task of declaring open a new library at Interactive Development in the city's West End!
She gave some festive readings – one from her recent novel, The Tea Planter's Lass, and the other from her childhood memoirs, Beatles & Chiefs which was about a mince pie crisis.
'It was a lovely visit,' said Janet, 'and the students asked plenty of questions. When I told them about my new venture into mystery writing, they asked me to come back and read from The VANISHING OF RUTH, and said they'd like to act it out with their drama group!'
Afterwards, Janet was shown around the new library which the students are running themselves, and then they went off for their Christmas lunch.
Interactive Development is a specialist training and education provider for young adults with learning difficulties and disabilities and runs a host of different courses at their site on the West Road.
Janet said, 'there was a real buzz about the place, and the staff and students went out of their way to be friendly.'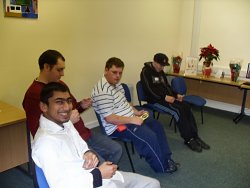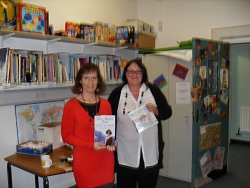 ---
Recently, Janet took part in a special event at Hexham Library, Girls' Night In. She was one of a panel of five authors (all members of the Border Reivers – the Northumberland branch of the Romantic Novelists' Association) who were talking about their work and life as a writer.
There were many questions from the audience and discussion about writing, over a festive glass of wine and a mince pie. The audience could also have their nails painted and went away with a goody bag of books and cards.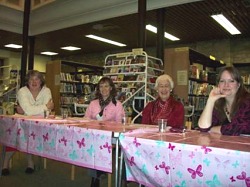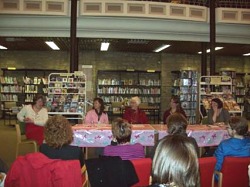 The author panel was chaired by Michelle Styles (historical M&B). Alongside Janet were Prue Phillipson (historical novels), Anna Louise Lucia (romantic suspense) and Abigail Bosanko (romantic comedy).
---
The Tivoli Tea Room at Fenwick's in Newcastle was the luxurious setting for the launch of The Tea Planter's Lass.
At tables set with white linen tableclothes, the large audience were served tea and ate delicious scones and cakes, while Janet talked to them about the new novel. She had been inspired to write about the Edwardian tea trade by traditional tearooms such as Fenwick's and the local firm Ringtons. In the course of writing the book, she admitted to drinking large amounts of tea!
Husband Graeme helped her with readings from the book, then she got down to some serious tea drinking and book signing.
| | |
| --- | --- |
| Janet with Mark Farrer, Book Manager at Fenwick's. | Mark presents Janet with flowers. |
| Guests enjoying cream teas. | Two happy readers. |
---
Janet has been longlisted for the Romantic Novel of the Year Award for 2008, for the Tea Planter's Lass, awarded by the Romantic Novelists Association
---
Launch of A Handful of Stars Stirs up memories of fascism in 1930s Tyneside.
Janet and husband Graeme gave dramatic readings from A Handful of Stars at the paperback launch at Waterstones in Newcastle. Graeme, taking his role as the fascist Vinne seriously, whipped off his jacket to reveal a blackshirt to the shocked gasps of the audience!
Janet also met up with one of her readers who had witnessed Blackshirt violence in South Shields in the 1930s. Joan Richardson had been pushed into a doorway for safety by her father to avoid a street fight between Mosley's fascists and their pursuers. Janet's new novel has prompted several members of the public to get in touch with their memories of those troubled times.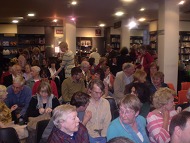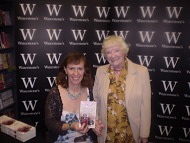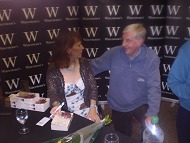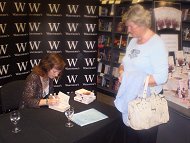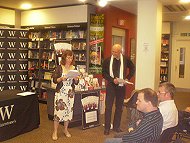 ---
Janet has been giving talks and doing signings around the region.
Her talk at Whitburn Library was the opening event of this year's Whitburn Festival where she was given a warm welcome by staff and readers despite the wet and windy summer's day!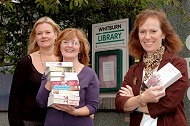 ---
Artist, Graham Innes, sent this recent picture of his bookcase.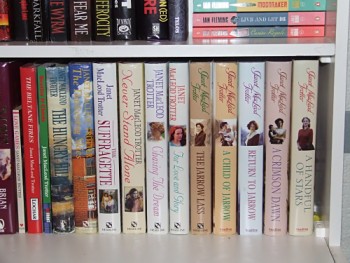 "It was a sight to gladden the heart," said Janet, "and will spur me on to add to Graham's bookshelf in the coming year!"
---
Article from recent issue of News & Natter - Headline's Newsletter to Readers.
Dear Readers,
I was marching in protest against the war in Iraq (my ten-year-old son had made a banner saying, 'Blair don't beat about with Bush!') when inspiration came for my latest novel. Did you know there were peace rallies all over Britain on the eve of the great war? Or that many women who had fought for the vote threw their energies into a peace campaign? They had had no say in going to war, but felt that as wives and mothers they bore the brunt of the losses. Amazingly, women from all over Europe and America held a peace conference in 1915 and suggested sending thousands of women to the Front to stand between two armies! How different the history of the twentieth century might have been if the women had won. I was fascinated by this overlooked piece of history and felt a link with these ordinary women from another century.
A Crimson Dawn is a saga of love and turmoil that sweeps from Edwardian England through to the First World War. Spirited heroine Emmie is rescued from the slums of Tyneside and brought up by a radical mining family who oppose the war on socialist grounds. After making a disastrous marriage, she falls in love with conscientious objector Rab MacRae and finds herself at loggerheads with family and society. Will the price she pays be too high?
Last year, my lovely father died at the age of eighty-four. A naval veteran of the Second World War, he had seen action from the Mediterranean to the dangerous Arctic convoy. He was also a great supporter of our monthly peace vigils in Morpeth, Northumberland. In hospital, I read him the first few chapters of A Crimson Dawn. His eyes lit with a flash of his old spirit as he said, 'It's going to be a great novel!'
He died before the saga was finished. I leave it for you to decide if his prediction was true. For me, it has been a labour of love and I really hope you enjoy reading it.
Love and peace
Janet Macleod Trotter
---
Janet was involved in an exciting new project at Woodhorn Colliery Museum, near Ashington in Northumberland.
Janet was one of four writers who were chosen to interpret Woodhorn and mining in Northumberland, through the medium of short stories.
Janet's short story - the final one in the exhibition - charts the momentous miners' strike in 1984.
---
Janet won a prestigious national Arts Council Writer's Award. In a ceremony at the National Portrait Gallery in London, she was presented with the award by Arts Minister, Estelle Morris.
The award (one of 15 to be given out of 300 entries) was to help the completion of a work in progress - in Janet's case, a novel for young people. 'I feel very honoured,' says Janet. 'It can be hard to break into a new literary market but this award gives me just the encouragement I need.'
Previous winners have included Salman Rushdie and Ted Hughes. Ten have gone on to win the Booker Prize and 26 have won Whitbread Awards. Janet was the only writer from the North-East of England to win an award.
The novel in progress is called SCORCHED and is about Vietnamese refugees in Britain. 'The idea came from meeting Vietnamese Boat People as a student. I wondered what had become of the children in particular,' says Janet. 'As with my historical novels, the setting is the North of England - always an inspiration to my work!'
Janet continues to write for adults as well. Her third novel in the Jarrow series was published in 2004.