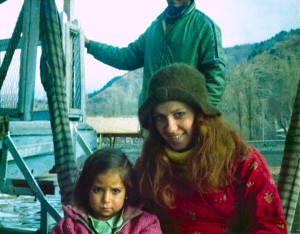 Janet with Gulamís daughter on a shikara, Dal Lake, Srinagar, Kashmir, during her overland adventure in 1976
Born to Scottish parents, Janet was brought up in the North East of England. The MacLeod (her father's) side of the family originate from the Isle of Skye where she spent long holidays as a child and now takes her own family as often as possible.
She has written amusingly on the subject:
"Most summer holidays we went on pilgrimage. Like whooper swans we flocked north obeying the in built seasonal call to return to our ancestral lands." [The Journal]
Janet has now collected many of her childhood anecdotes into a memoir, Beatles and Chiefs.
Migration and travel feature on her motherís side too; Gorries and Camerons who left Edinburgh to work in India and Australia.
Perhaps a thirst for travel was in her DNA, for aged 18, she boarded a bus in London bound for Kathmandu and spent three months travelling overland, inspired by stories from her mother and grandparents of their life in bygone India where her grandfather had been a conservator of forests.
ďMy mum had tales of pacing the length of a man-eating tigerís entrails and watching soup being sieved through a turban. The head of said tiger greeted us in the entrance of my grandparentsí home in Edinburgh. The Beatles had hung out in India and it had changed their music; books such as EM Forsterís Passage to India whetted my appetite for the mysticism of the subcontinent. India beckoned, and so I went!Ē
India also features in Janet's novels in The India Tea Series.
Having returned from India, she studied Social Anthropology as well as Scottish History at Edinburgh University and has a keen interest in both history and other cultures. Married to Graeme (a Geordie!) they have two children, Amy and Charlie and continue to live in the North East.
Janet has been a published writer since the mid 1980's and has a broad range of writing experience from adult historical novels and short stories to children's writing. She has also written regular newspaper columns, articles and TV reviews - many of them controversial! For several years she was editor of the international Clan MacLeod Magazine.
Janet: "I began my writing career doing scripts for photo stories in teenage magazines and then short stories for both the teenage and adult markets until in 1989 my first 2 novels were published: Love Games (a teenage novel published by Pan) and The Beltane Fires (set in 16th century Scotland and published by Lochar)."
But it is her North East historical novels that put Janet on the best seller lists. The Hungry Hills got her short-listed for the Sunday Times Young Writer of the Year Award, and The Tea Planterís Lass was longlisted for the RNA Novel of the Year. She won an Arts Council Award for a teenage novel Scorched, about Vietnamese refugees in Britain.
To read about Janet's historical novels click here.
In whatever medium Janet is writing, she knows how to stir the emotions. Even her newspaper columns inspire loyal readers Ö
"When I read Janet MacLeod Trotter's novel The Suffragette, I considered it a masterpiece. I felt the same about her column on the recent Newcastle United scandal."
P M D. Whickham, England.
Contact Janet by e-mail: janet@janetmacleodtrotter.com