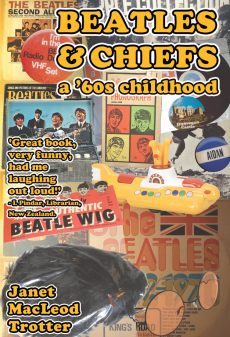 #ad

#ad
BEATLES AND CHIEFS
Published by MacLeod Trotter Books ISBN 978-0-9566426-5-3
Paperback available from Amazon.co.uk
Featured on BBC Home Truths, this is the delightful memoir of a Beatle-mad, ex-pat Scot growing up in the north-east of England in the 1960s. Janet was the only girl in a family of boys brought up in the 'Land of Boy' - a boarding school in Durham where her father Norman was housemaster.
Every year, this family of MacLeods made the annual pilgrimage back to the ancestral home on the Isle of Skye - seven people crammed inside a Ford Zephyr for a two day journey; 'The Romans have a lot to answer for. Their arrow-straight road rose and dipped like the sea and our stomachs heaved on each crest of the wave.'
Beatlemania, the Girls from U.N.C.L.E, suffragist great-aunts, real chiefs, Donovan-spotting, a pastry scandal and a dash of blood-thirsty clan history - Janet's tales are amusing and touching, and vividly re-create the lost world of '60s Durham and the Scottish Highlands before mass tourism.
Read Extracts from Beatles and Chiefs - click here
Janet MacLeod Trotter is a best-selling author of historical novels published by Headline. She was short-listed for the Sunday Times Young Writer of the Year Award with The Hungry Hills, and wrote the hugely popular Jarrow trilogy based on the life of Catherine Cookson. Janet has been editor of the Clan MacLeod Magazine, a columnist on the Newcastle Journal and had twelve novels and numerous short stories published. She lives in Northumberland with her husband Graeme, daughter Amy and son Charlie.
Readers E-mails:
'Great book, very funny, had me laughing out loud!'
L.P. New Zealand.
'I have so enjoyed Beatles and Chiefs. It is a very long time since I have read anything that provoked such gales of laughter - I made the mistake of reading it in the train on a number of journeys to and from Glasgow - so I think reputation for sanity must be pretty low just now!' T.D.K, Kilmarnock
Just to say how I enjoyed Beatles and Chiefs - not just because you have a great way of expressing things [ evocative comes to mind !] - but also because I knew Norman - and your childhood and teenage years were just about the same as mine.
R.F., Northumberland
---
If you would like to write to Janet by e-mail with your comments about this or any other book, please use this e-mail link: janet@janetmacleodtrotter.com or Contact Form