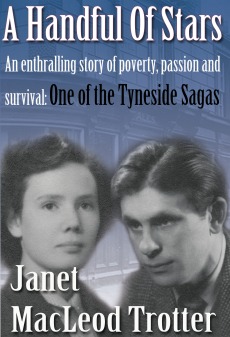 #ad

#ad
A HANDFUL OF STARS
*An Amazon Kindle Bestseller*
Published by MacLeod Trotter Books
Available in large print, published by Magna, ISBN 978-07505-2703-3
Available in audio, recorded by Soundings, ISBN 978-1-84559-613-2
Available in paperback ISBN 978-1-908359-19-3Available as an ebook ISBN 978-1-908359-18-6

Available to buy on-line for Amazon Kindle from Amazon.co.uk and Amazon.com

Foreign and translation rights to this novel are handled by the Madeleine Milburn Literary, TV and Film Agency:
http://madeleinemilburn.co.uk/mm-authors/janet-mcleod-trotter/
It's 1931 and the Depression has brought Tyneside to it's knees. Businesses are struggling all over and the Magees' fancy-goods shop is no exception. Seventeen-year-old Clara Magee is devastated when her father commits suicide. It's bad enough he's left his wife Patience and the family with nothing; they hadn't expected to inherit his secret gambling debts. Facing ruin, the Magees are forced to sell their business to a German couple whom Patience resents. Despite her mother's disapproval, Clara befriends their daughter Reenie and hot-headed son Benny.
Patience Magee thinks old family friend Vinnie Craven would make far better company for her daughter, and Vinnie's admiration of Clara is obvious to all. Yet her heart lies elsewhere - with Reenie and Benny's dashing elder brother Frank.
When Frank leaves abruptly for Germany, a disappointed Clara tries to dismiss her feelings for him. Increasingly flattered by Vinnie's single-minded attention, she eventually accepts his proposal of marriage. But Clara hadn't bargained for Vinnie's violent temper and his growing fascination with Mosley's Fascist party. As darkness gathers in Europe, Clara discovers more evidence of her husband's disturbing political views. But the greatest shock is still to come.
Reviews:
'A vivid and compelling read ... If you like books that reflect a particular point in history then you will find this one fascinating'
Derby Evening Telegraph
'An enjoyable read giving a vivid picture of the Depression years'
Bradford Telegraph and Argus
'Weaving vivid history with a heart-breaking love story, A Handful of Stars, is an outstanding depiction of the tensions and turbulence of life in the 1930s. Janet is often compared to Catherine Cookson, but she is a true original - and an author you'll take straight to your heart after just one chapter!'
World Books
'MacLeod Trotter writes with confidence and conviction, weaving together a panorama of inter-connected incidents, all charged with feeling and emotion. It's another good read and it proceeds to a dramatic climax.'
The Newcastle Journal
Readers E-mails:
'I kept reading this and before I knew I was halfway through. It's a brilliant book - I was on the edge of my seat at the end. It was heart pounding, shocking, surprising and an excellent twist - fantastic reading. You must read it now. '
G. Innes - Newcastle UK.
'I thoroughly enjoyed reading A Handful of Stars and, just like your other sagas, it was one book which I couldn't put down. I've been a huge fan of yours for years and your books just keep on getting better and better.'
J.B. - Malta.
'I really enjoy your books, you are just what I ;have been looking for since the passing of Catherine Cookson. Thank you so much, may there be many more books to come.'
KW via website
Hi Janet Thought you might like some feedback on your new book.
Just finished reading the new book I absolutely loved it. I ordered it from the Library and got it a week ago and I had to keep stopping reading it to make it last longer because I could have just read the whole book in one go I could not put it down. The amazing thing was that my Mother was called Clara and my Father was called Frank. I was wondering how Clara was going to get rid of Vinnie mostly but what a great story it just kept rolling along keeping your attention from start to finish.
I always think your latest book is your best but I really think this is an absolute winner.
You deserve really good reviews for this book it was Brilliant. Thank you Janet for a great read.
PS. I was sorry to hear you had lost your Father before A Crimson Dawn he was obviously very proud of you .
Sincerely,
H.D. - Wales
If you would like to write to Janet by e-mail with your comments about this or any other book, please use this e-mail link: janet@janetmacleodtrotter.com