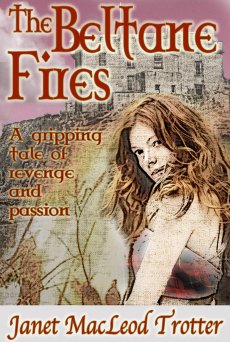 #ad

#ad
THE BELTANE FIRES
Published by MacLeod Trotter Books. Available in paperback and as an ebook.
Paperback ISBN:978-0-9566426-9-1
ebook ISBN: 978-0-9566426-8-4
Paperback available from Amazon.co.uk
Chief's daughter, the fiery Mairi Lismore is in love with Douglas Roskill, heir to Duntorin Castle, but they are wrenched apart by the zealous witch-hunts of Zechariah Black and the jealousy of her step-sister. Sent to the Royal Court of James VI in Edinburgh, Mairi discovers that its gaiety and glitter hide dark treachery and the ruthless ambition of Robert Boswell who determines to have her for himself at any cost. With treason, betrayal and revenge thwarting Mairi and Douglas's attempts to be reunited, this is a gripping historical love story which moves from the embattled fringes of the Scottish Highlands to the dangers and intrigues of 16th century Edinburgh.
Janet: 'As a student at Edinburgh University I studied Scottish History among my subjects and was swept off my feet by the vibrancy of life in 16th century Scotland – the political intrigues, the jostling for power between the Edinburgh-based King James VI and the independent Highland chiefs, the larger than life characters with their passions and short lives lived to the full. I could wander around the high tenement houses, narrow closes and cobbled streets of the city and still get a feel of that distant, dangerous, dirty yet cultured capital of the Scots. And as a MacLeod who spent all her holidays on the Isle of Skye, this novel was born out of my twin loves – bustling Edinburgh and the rugged Highlands.'
Praise for Janet MacLeod Trotter's heartrending novels:
'A wonderfully moving, deeply emotional tale'
Daily Record
'Another action-packed, emotionally charged page-turner'
Newcastle Journal
'Irresistible'
Sunderland Echo
'A vivid and compelling read'
Derby Evening Telegraph
If you would like to write to Janet by e-mail with your comments about this or any other book, please use this e-mail link: janet@janetmacleodtrotter.com or Contact Form