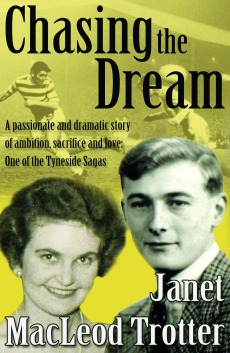 #ad

#ad
CHASING THE DREAM
Available in large print from Magna and audio from Chivers.
Available in paperback ISBN 978-1-908359-31-5
Available as an ebook ISBN 978-1-908359-30-8
Spanning two generations from the 1920's to the 1950's, it is a vivid portrayal of South-East Northumberland and of Tyneside. Set against the tough backdrop of a mining town, there is both hardship and glamour, as Chasing the Dream explores the region's passion for football.
Millie, haunted by childhood poverty and eviction, sees security and happiness in the form of handsome but wayward Dan Nixon. Dan pursues his own dream of playing professional football as a means of escaping the hardship and dangers of the mines and for a while it seems their dreams will come true. But tragedy strikes and a terrible, long-kept secret is exposed which test Millie's fortitude and dreams to the limit.
"Passionate and dramatic, Chasing the Dream is a compelling story about the cost of ambition and the sacrifices we make for love."
Janet: "This novel is about the survival of the human spirit despite all that fate throws at us. When Millie's dreams begin to unravel, it is her strength of character and her deep compassion that count. The football theme was inspired by a walk down Northumberland Street in Newcastle and passing the statue of United's legendary striker Jackie Milburn. With my family, I've followed Newcastle United to Wembley in recent years, but have yet to see them repeat the triumphs of Milburn and his team-mates in the 50's. We're still chasing that particular dream!"
Reviewers Comments:
"Janet's picture of life in a North-East pit village between the wars springs from the canvas. It's spot on! Her characters are caught in the twists and turns of a lively plot. The story gallops along and keeps you guessing right to the end.
It begins in 1920 in the bleak pit village of Craston. Times are hard for Teresa and her miner husband. Just before they are evicted from their home, she escapes with her daughter Millie to the town of Ashborough, where she poses as a widow to start a new life. Millie meets Dan, the dashing footballer who is determined not to follow the rest of the menfolk down the pit. They marry and have a daughter, Edith, but his drinking and rumours of unfaithfulness put a strain on the marriage. Millie knows, though, that she must support Dan if he is to reach his goal.
Tales of war heroism and lies spice up a compelling novel."
The Sunderland Echo
Readers Comments:
This is the first time I have read any of your publications, and I loved the book. I felt every pain, that your main character "Millie" went through. I just felt I had to thank you for taking me on a beautiful journey, please keep up the good work, you are a very talented lady.
R.D.
I have just finished reading your Chasing the Dream and have greatly enjoyed it. Congratulations on having managed to keep up the extremely high standard set by your four earlier books. The characterisation seems to me to be excellent, and I greatly admire your understanding of and sympathy with your fellow human beings in their frailty and griefs and courage. I found it not easy to put down. A masterly achievement! Thank you so much and may you keep up this standard!
C.C. - Durham, England.
Congratulations on a really entertaining, page-turning novel! Chasing the Dream got me totally immersed in a different world and you've given the football background just enough importance to balance and carry the rest of the action. It's a wonderfully original flavour for a saga - well done!
A.S. - London, England.
I must congratulate you. I have just read your fine and moving novel which so marvellously re-creates the atmosphere of the Tyneside where I was brought up and educated in the twenties and thirties. The Geordie characters are portrayed with genuine insight and understanding and beautifully brought to life. Moreover your feeling for human relationships has the right sort of ring. A fine piece of work and a most enjoyable read.
E.R. - London.
If you would like to write to Janet by e-mail with your comments about this or any other book, please use this e-mail link: janet@janetmacleodtrotter.com or Contact Form