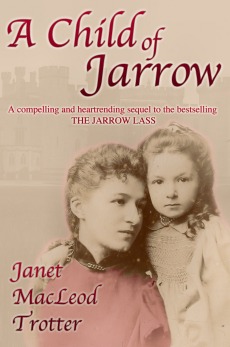 #ad

#ad
A CHILD OF JARROW
*An Amazon Kindle Bestseller*
Published by MacLeod Trotter Books
Available in paperback ISBN 978-1-908359-03-2
Available as an ebook ISBN 978-1-908359-02-5
Large print edition available - published by Magna.
Audio edition available - published by Soundings.
**This book stayed in the Heatseakers Top 20 Fiction Best Sellers lists for several weeks** (Data compiled by Nielsen Bookscan)
To escape the malign interest of her possessive and drunken step-father, Kate Fawcett is sent away from teeming Tyneside and finds work at Ravensworth Castle. She soon attracts the attention of charming, headstrong Alexander Pringle Davies, a distant cousin of the Earl, who risks incurring the wrath of his family by courting lowly Kate. But when Kate finally succumbs and allows herself to be seduced, Alexander is forced into an unwanted betrothal by his father and disappears abroad.
Discovering she is carrying Alexander's child, Kate goes home to face the wrath of her step-father and the censure of their neighbours and resigns herself to a lonely life of drudgery. But is is her daughter Catherine who gives her life meaning and keeps Kate from giving up - that and the hope that Alexander might one day return to claim her and their lively child ...
Reviewers Comments:
'This is the sequel to The Jarrow Lass, which chronicled the tribulations of Rose McMullen, Catherine Cookson's grandmother. That effort was certainly worthy of the talent and stature of Wor Kate, and A Child of Jarrow is just as compelling.'
Sunderland Echo.
'The Jarrow Lass was inspired by Catherine Cookson's grandmother. This follows into the next generation, with Cookson's mother and the childhood of the great novelist herself. It is a winner.'
The Bookseller.
Readers Comments:
I've read Jarrow Lass and A Child of Jarrow which are both brilliant.'
A Blease - email
'Loved your book! What an insight for character you have. Moved me to tears in parts.'
G.D. - Gateshead.
I have just finished rading this book and once again I found myself moved by the depth of feelings portrayed. I have learned more about the history of the last 100 years from your books than I ever did from a history lesson.
L.A. - Northumberland.
'I buy your books for my mum - just to let you know the last book was terrific according to my mum, she couldn't put it down and has really enjoyed it.'
N.S. - Warwick
'I have just bought two more of your books and cannot put them down.'
B.W. - Leeds
'No words to explain - just excellent.'
S.W. - via internet
If you would like to write to Janet by e-mail with your comments about this or any other book, please use this e-mail link: janet@janetmacleodtrotter.com