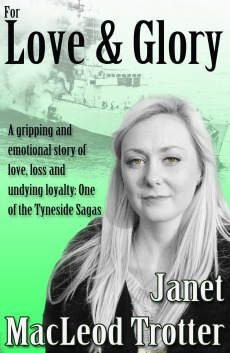 #ad

#ad
FOR LOVE AND GLORY
Published by MacLeod Trotter Books
Available in large print, audio and CD from Magna.
Available in paperback ISBN 978-1-908359-28-5
Available as an ebook ISBN 978-1-908359-27-8
Paperback available from Amazon.co.uk
Tom-boy, Jo Elliot grows up on Tyneside in the 1960's with her widowed father and older brother Colin and his friends. She has a special bond with the lively but rebellious Mark Duggan who is rejected by his father and ignored by his hostile brother Gordon, to whom he can never measure up.
Mark longs for acceptance, but it is mature and masculine Gordon for whom Jo falls dangerously in love. Tragedy unfolds that leaves Jo outcast from her old friends. As she tries to rebuild her life, war breaks out in the Falklands and both Colin and Mark are called up to fight before she can make her peace. As terrible family secrets come to light that have blighted the two families for years, Jo realises she must act to stop tragedy ruining the future. "Emotional, entertaining and utterly engrossing, this magnificent saga explores the depths of love and undying loyalty."
Janet: " The novel is set in Wallsend on the River Tyne from where my husband's family come. I have them to thank for much of the background information on this vibrant community where many of the world's greatest ships were built. The Falklands material was inspired by veterans I'd read about – ordinary people who'd shown extraordinary courage – long after the short war was over and out of the news. But in particular, I'm indebted to our brave friend, John Mew who served on HMS Coventry, and was generous in sharing his experiences. This novel wrung every emotion possible out of me as I wrote it; I hope it might move you, the reader, too."
Reviewers Comments:
"A good read." Shields Gazette
"Four stars - Very good." Peterborough Evening Gazette
Readers Comments:
I am not a 'big' reader and like books that immediately grab me and then keep my attention. 'For Love and Glory' is one of those books. I found it gripping and emotional and in fact as I finished it (in bed this morning) there were tears rolling down my cheeks. My wife walked in and took one look at me and said 'that's not like you. It must be a very good book' - It is. Thanks again - and keep on writing.
A.D. - Newcastle upon Tyne.
I have just spent a sleepless night because I couldn't put your book 'For Love and Glory' down. It is fantastic!
H.B. - Peebles, Scotland.
Ever since reading For Love and Glory I have intended writing to you. I just wanted to let you know I thoroughly enjoyed your book. Clearly a lot of research went into it, the story was well constructed and, of course, the writing as sensitive as ever. I was totally absorbed to the very end. My congratulations.
D.G. - Newcastle, England.
I have just finished reading your latest book, which I enjoyed so very much. Wonderful! You tell such a good story that I can't wait to get to the next chapter - but then I don't want to finish the book too quickly. Thank you for yet another great read. I now look forward to your next book!
M.C. - Durham, England.
How very much I, and our 16 year-old daughter, have enjoyed 'For Love and Glory'. She literally couldn't put it down yesterday evening. We both loved the local recent history fascinating - please continue writing!
C.B. - Durham, England.
I can't adequately begin to tell you how thrilled and impressed I am with 'For Love and Glory'. Throughout one identifies with Jo in all her trials, troubles and triumphs … All the time the reader lives every moment with her and the other characters. The Naval/Military chapters are excellent; they ring true … In the end, how marvellously the author states both points of view -the peace aspirants and the men who believed in what they were doing in their service. Fortunately I finished the book, reading it here on my own, when everyone else was out, because I was in tears at the end. What a really splendid book it is - so powerful, so wise, so compassionate, so deeply moving. One 'lives it' from start to finish.
N.M. - County Durham, England.
I enjoyed the book a lot and got fully into it.
D.G. - Edinburgh, Scotland.
I departed from my normal procedure of keeping the book for a few weeks before reading it and started it almost immediately - and found it difficult to put down. I especially enjoyed some of your descriptions especially the sherbet and liquorice stick, it was so real - again another winner for you.
S.R. - Isle of Skye, Scotland.
I have just read your latest novel, 'For Love and Glory'. I wanted you to know that I really enjoyed this book. The fact that it contained a change in subject matter from the run of the mill, predictable style 'women's read' was certainly very refreshing. Being 38 years old I could relate to the times you wrote about from the sixties … Thanks again for several hours of engrossed reading!
L.C. - England.
If you would like to write to Janet by e-mail with your comments about this or any other book, please use this e-mail link: janet@janetmacleodtrotter.com or Contact Form