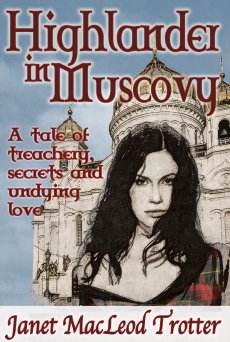 #ad

#ad
HIGHLANDER IN MUSCOVY: a tale of treachery, secrets and undying love.
Published by MacLeod Trotter Books
1700s: Beautiful and impulsive Katherine Putulo, daughter to a Scots doctor, is raised in the foreign quarter of Muscovy (Moscow) among European émigrés. On her sister's wedding day, Katherine rashly disguises herself as a peasant girl and joins in the revelry of Tsar Peter's victorious returning army, dancing with other Russians in a forbidden part of the city. There she captures the interest of hardened mercenary and handsome Scottish Highlander, Major Alexander Ballantyne, one of the Tsar's most popular soldiers who has caused scandal by taking a Russian princess as his mistress. Smothering her attraction to Alexander, Katherine finds herself the target of unwanted attention from selfish and scheming, Hector Maitland, her godfather's nephew. Under the thin veneer of civility in the foreign enclave lies tension and betrayal; a shocking murder leads to Alexander's arrest and Katherine is forced to make the hazardous journey back to Scotland – the land of her father yet a foreign country to her. Yet it is not the safe haven for which she longs. Who can she trust and will she ever see Alexander alive again?
From the glittering Russian court of Peter the Great to the wild Scottish Highlands, HIGHLANDER IN MUSCOVY is a fast-paced tale of ambition, betrayal and unbreakable bonds of love.
If you would like to write to Janet by e-mail with your comments about this or any other book, please use this e-mail link: janet@janetmacleodtrotter.com