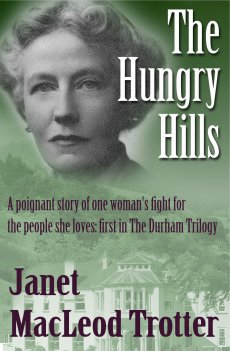 #ad

#ad
THE HUNGRY HILLS
First in the Durham Mining Trilogy
*An Amazon Kindle Bestseller*
Published by MacLeod Trotter Books
Available in paperback ISBN 978-1-908359-07-0
Available as an ebook ISBN 978-1-908359-06-3
Available in large print from Magna, ISBN 0-7505-1668-2
Available in audio (published by Soundings) ISBN 1-84559-129-1
The Hungry Hills is set in a County Durham mining communityduring the conflict of the 1926 General Strike and is a tribute to the courage and fortitude of the Durham mining communities and especially the Durham women.
The book is dedicated to Janet's stillborn son and also portrays the feelings and reactions to a stillbirth. Written with compassion, humour and a vivid intimacy, The Hungry Hills is an unforgettable saga of two very different families living through the dramas and tragedies of 1920's England, and marked the saga-writing debut for Janet who was described as a "considerable new talent" and short-listed for the Sunday Times Young Writers award in 1993.
Janet: "The Hungry Hills is a tribute to the courage and fortitude of the Durham mining communities and especially the Durham women. Ever since I took part in a T.V. documentary on the strike as an 8 year old, I have wanted to write about the mining communities of the North-East of England. I played the daughter of coalowner Lord Lambton on T.V. for only a few moments, but it made a lasting impression on me! The book, which is dedicated to our stillborn son Stanley, also gave me the opportunity to express in a fictional context some of my feelings and experiences following our own tragedy."
Reviewers Comments:
"I read The Hungry Hills with pleasure...Not only a good read but a vivid picture of the coalfield. All the misery and class division are there but so are the warmth and courage of the people. You'll believe you are there. "
Denise Robertson
"Truly a novel for saga lovers ...the author competently manipulates the threads of the plot, weaving together the lives of her many characters with compassion skill and affection. Her skill at storytelling is most evident in the novel's action sequences, where she conjures with convincing vigour the agony of childbirth, picket line violence and the dangers lurking in the mines."
Northern Echo
"An unforgettable saga of life in the 1920's" Worcester Evening News "When Janet MacLeod Trotter writes about the North East she knows what she is talking about...Her latest novel The Hungry Hills is set in the Durham coalfields...is full of warmth and courage and tales of class differences."
Sunderland Echo
"I picked it up with a view to skimming through it before finding someone to read and review it for the Newsletter. I emerged two or three days later from the hard life of the residents of Whitton Grange, my children unfed, the clothes unwashed, ironing undone ... This is a wonderful book dedicated to Janet's stillborn son Stanley. In it, she deals sensitively with the loss of a precious baby, and as in real life, the mother's feelings about it do not just go away as the story progresses. ...So if you can spare a few days and don't mind loosing sleep as you read by torchlight into the night, do get this book. Be warned, you may not take our soft 1990's lifestyle quite so much for granted ever again."
The Miscarriage Association Newsletter
Readers Comments:
I meant to write ages ago to complain about The Hungry Hills. Hardened commuters are not supposed to cry on the 19.15 from Kings Cross. Most embarrassing.
D.M. - Herts, England.
The House is in a mess, the kids had to eat at McDonalds and I'm not getting any sleep - and its all your fault! I just can't put your brilliant book down...hope you sell millions!
C - Sussex, UK.
I have just finished The Hungry Hills and just had to write to congratulate you on writing such a fantastic book. You managed to draw out of this reader every emotion possible. There were some amazing characters in the book and some wonderfully powerful moments which quite frankly I don't think I will ever forget. P.D.
Norfolk, England.
I just wanted to let you know how much I enjoyed your latest book. You held my interest from beginning to end so that I felt quite bereft when I had finished it and eagerly look forward to your next book.
M - Durham, England.
Many thanks for your wonderful novel. I've added it to my special section of books written by friends. It arrived just before Christmas and I read it on Christmas Day. The book brought back many memories of old family stories of the 'bad old days' of New England Mills and the resourcefulness of families during the Great Depression.
J - Boston, USA.
I am definitely impressed with The Hungry Hills (which I have read with much pleasure) - your people come vividly to life and one cares about what happens to them.
D - London, England
I feel as though I must write to you now I have finished your book to tell you how much I enjoyed it. I found it very emotional. The tears that were shed at the end of the book were because I found the end very moving but also because I felt I was losing some good friends. All I can say is I look forward to the follow up.
J.M. - Northumberland, England.
Loved it...I read and read and read until finally it was page 500 or so and that was that - where's vol. 2 ?
D.G. - New Zealand.
I took it with me to the north of Scotland and read myself to sleep in the various youth hostels. I feel as if I know all your characters and am pleased to know more of that period of history in the North East of England and certainly sided with the miners. I enjoyed it tremendously.
M.H. - Florida, USA
Without wishing to patronise in the slightest I have to say you write a splendid story. In my opinion few are gifted storytellers, but you have achieved the difficult task of keeping the readers continued interest in the many characters. Furthermore, you seem to have the elusive ability of making one feel part of the situation. I found that I had developed distinct opinions with definite likes and dislikes!!
A - Newcastle upon Tyne, England.
I enjoyed it very much and could hardly put it down.
L - Edinburgh, Scotland.
I am filled with admiration for The Hungry Hills; my affection for the characters grew steadily and now I want to know what happens to them. You can be assured that I will buy the sequel.
A - Gloucestershire, England.
I have at last had time to read your book and have enjoyed doing so immensely. I found the insight into life in the Durham pits quite fascinating and am most impressed with the amount of research you must have done into the early 20th century mining industry to get it right.
C - Exeter, England.
I have bought your book The Hungry Hills and have just finished reading it. I thought it had lots of atmosphere of the 1920's. I found your book very interesting to read, very well written and am pleased you have done it well...I wish you good luck for your next book.
G - Newcastle upon Tyne, England
Congratulations. I have greatly enjoyed reading your book. You have captured the whole atmosphere of the place and the time. I lived in such a village in the twenties and it is so authentic and moves me very much. You have a real gift and have given me a lot of pleasure. I look forward to your next.
B.W. - St Andrews, Scotland.
Couldn't put it down. I thought it was superb - one of the best books I've read.
H.B. - Peebles, Scotland.
If you would like to write to Janet by e-mail with your comments about this or any other book, please use this e-mail link: janet@janetmacleodtrotter.com