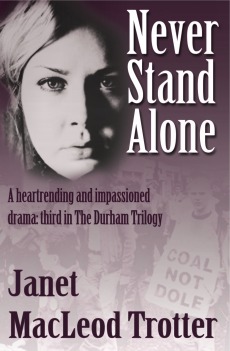 #ad

#ad
NEVER STAND ALONE
Third in the Durham Mining Trilogy
*An Amazon Kindle Bestseller*
Published by MacLeod Trotter Books
Available in paperback ISBN 978-0-9566426-7-7
Available as an ebook ISBN 978-0-9566426-6-0

Also available in:
Audio tape (Chivers Audio Books) - ISBN 0-7540-0230-6
Large print-hardback (Chivers Press) - ISBN 0-7540-1155-0
Large print-softback (Chivers Press) - ISBN 0-7540-2112-2)
The book is set against the fascinatingly vivid backdrop of a momentous turning point in recent history, the 1984 miners' strike. Set in a pit village on the Durham coast, it charts the bitter struggle between the National Union of Mineworkers [The NUM] lead by Arthur Scargill and the Conservative government lead by Margaret Thatcher. Never Stand Alone is a powerful, heartrending story of the people caught up in the divisive dispute. At the heart of the storm is the passionate relationship between Carol, the pit manager's rebellious daughter and Mick, one of the miners. The battle that is dividing the nation and threatening the survival of their community could also destroy their union.
Janet: "Never Stand Alone (Headline) was something of a departure being a much more contemporary novel - what I would call a 'recent memory saga'. The consequences of the strike are still being felt today and the book was written largely for people, like myself, who lived through the strike but had little or no understanding of the acute hardship that the miners and their families suffered. In particular, the courage and fortitude of the women are celebrated and the book is a tribute to them. Whilst this is a family saga I also hope that it will challenge the reader to re-visit 1984 in the light of subsequent events."
Reviewers Comments:
"The result is a gritty, heartrending and impassioned drama about a time and a part of the North-eastís rich industrial heritage, that has been lost forever."
The Newcastle Journal
"Following in Catherine Cooksonís wake and producing novels of a similarly high calibre, is Janet MacLeod Trotter...A tough, compelling and ultimately satisfying novel. Janet paints a vivid picture of the toil and heartaches in a typical North East pit community...VERDICT: Another classy, irresistible read."
The Sunderland Echo
"Some people might argue about the politics of the book with its attacks on the system, but the same criticisms were levelled at the likes of Dickens when he exposed the evils of Victorian Britain so Janet MacLeod Trotter is in good company. She pulls no punches, tells it like it is and taps directly into your emotions. Youíll be angered, exasperated and outraged but you wonít be unmoved, and thatís as it should be." Classification ***** [Excellent]
The Northern Echo
"...the authorís grasp of the issues and evident sympathy with both the minersí cause and her own characters have helped create a vivid picture of courage in the face of injustice...Never Stand Alone is a successful book which ought to increase the authorís growing band of fans." Northern Review
"The gritty, unforgettable story of families torn apart by the conflict that divided a nation...a powerful story."
World Books [Listed as a *Star Book*]
Readers Comments:
'It is written about 1984 miner's strike. It was taut reading and impossible to put down! brilliant book.'
G. Innes - Newcastle UK.
Well the book - couldn't put it down, each time I picked it up it was just one page more, just one more... It really was an excellent book.
I - Western Australia.
The humanity which I greatly admired in your three earlier books is very much in evidence in this new volume. And this strikes as even more powerful. I rejoice that the miners of County Durham and elsewhere in the North East have such a doughty champion. I certainly share your respect for them and your sadness about the savage treatment they suffered. I was so impressed that I intend to read your novel a second time.
C - Durham, England.
I've read Never Stand Alone and thought it was great - the best thing you've done.
A.W. - London, England.
I'm very grateful. I really enjoyed Never Stand Alone which I ordered from our mobile library.
K.C. - North Yorkshire, England.
I acquired a copy of Never Stand Alone in November from Bookends in Christchurch and enjoyed it so much. If ever you were down here I've got all your books so far and would like to have your signature.
G.J. - Hampshire, England.
If you would like to write to Janet by e-mail with your comments about this or any other book, please use this e-mail link: janet@janetmacleodtrotter.com or Contact Form