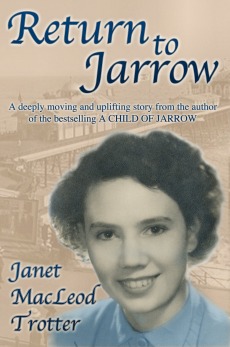 #ad

#ad
RETURN TO JARROW
*An Amazon Kindle Bestseller*
Published by MacLeod Trotter Books
Available in paperback ISBN 978-1-908359-05-6
Available as an ebook ISBN 978-1-908359-04-9
Large print edition available - published by Magna.
Audio edition available - published by Soundings.
ReturnTo Jarrow, Janet's ninth saga, concludes the bestselling trilogy that began with The Jarrow Lass and continued with A Child of Jarrow.
Tyneside, 1923
Catherine McMullen, or Kitty as she is known, is seventeen, restless and rebellious. Resentful of her mother Kate's new husband, she yearns for stories of the father she never knew. Catherine is sure he must have been special as her mother risked everything for him. But when her gossipy aunt divulges that he was a wealthy gentleman, it only serves to heighten Catherine's discontent with Jarrow - the grimy, impoverished town she calls home.
Eager to catch a glimpse of the lifestyle that might have been hers, Catherine takes a position as a lady's companion in a grand house. But her illusions are shattered when she realises she has been employed as no more than a skivvy. She decides to try for a job as an officer in charge of the laundry at the notorious workhouse. There her young eyes are confronted with the horrors and indignities of poverty, and she becomes even more determined to rise above her wretched surroundings.
Braving the ridicule of fellow staff, Catherine embarks on a quest for knowledge. Soon the ill-educated and streetwise Kitty McMullen is a ghost from the past, and the well-spoken, well-read Catherine leaves the north-east to follow her dreams. But hardship and heartbreak are not far behind, and there are battles to be fought and won before the child of Jarrow finally comes home.
Reviewers Comments:
'An excellent period work'
Bournmouth Daily Echo
'Her finest yet - a wonderfully moving, deeply emotional tale'
The Daily Record
'Penmanship of the highest quality ... This is a story of warmth and despair, based on facts and places and with excellent characterisation. It is a delicate yet strongly-woven book of biography and imagination. Rich in narrative, which twists and turns on every page. It touches many raw nerves of human experience. It should satisfy both the Cookson addict and those lovers of a good story.'
The Newcastle Journal
'If anyone can claim to be the new Catherine Cookson then it must surely be Janet MacLeod Trotter. Her new powerful saga of a restless, rebellious working-class girl of 17 who experiences the horrors of the workhouse and the harshness of life in service and whose one desire is to escape the impoverished town of Jarrow, is inspired by Cookson's early life. And her writing, like Cookson's, can inspire laughter and bring a tear or more likely make you rage at an age when destitution and degradation were considered to be the lot of the common people. This is a story to burn itself into your mind.'
Northern Echo
'This is a powerful and compelling saga'
Bolton Evening News
'It is powerfully and skilfully written, and keeps you interested until the end'
The Sunderland Echo
Readers Comments:
I have just finished the last book and didn't want that to be the end! I felt I had lived the whole experience ,it was so real.
B.C. via website
'Dear Janet OH I am so glad I have found you, my husband has been very ill and YOU have helped me over the last six weeks to take my mind of things, ONLY the dear late Catherine could have done that BEFORE I met you, I have all her books, now you are my new wonder I am telling all my friends about, MOST say OH haven't you read her before.
THANK YOU you are a wonder with the pen, I am into genealogy so every thing your write gives me a vision of how life must have been for people in that far off days .
THANK YOU very warm regards'
Margaret - NOTTS UK
'I have been searching for an author I can enjoy reading since my beloved Catherine Cookson's life came to an end. I am so pleased to have found you, I have everything she wrote and am now starting a new collection ...... your books ..... Long may your writing skills last Janet, there is nothing better than a really good read, I am approaching 70 and have always loved reading, thank you for providing lots of material for me to go at. All that is good for you and yours.'
Joyce Culver - Lemon Tree Passage, NSW, Australia
If you would like to write to Janet by e-mail with your comments about this or any other book, please use this e-mail link: janet@janetmacleodtrotter.com or Contact Form