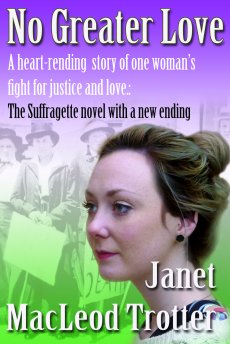 #ad

#ad

#ad
NO GREATER LOVE (formerly, The Suffragette)
*An Amazon Kindle Bestseller*

Published by MacLeod Trotter Books
Available in paperback ISBN 978-0956642639
Available as an ebook ISBN 978-0956642622
Emily Davison, the suffragette from Morpeth Northumberland,who threw herself under the Kingís horse at the Epsom Derby in 1913, was the inspiration for this gritty, fast paced novel.
Heartbreakingly moving at times, this is a passionate story of a stubborn, self-willed woman's battle for personal freedom.
Janet: "Very often the suffragette movement is associated only with London but there were many brave women in the North who got involved in the fight for the vote and this novel is a tribute to them. My own family has links with the women's emancipation movement. My great aunts were suffragists and my great grandmother (also called Janet!) once rushed up to Winston Churchill in Edinburgh and shouted "Votes for Women Mr Churchill!"
Reviewers Comments:
"This is no romanticised picture of the suffragettes, but a harshly realistic view of their lives and treatment and also of the ambivalence of some of their members. It brings a time and place vividly to life and makes compulsive reading."
Northern Echo
"Yanks at the heartstrings with characters you really care about ... Janet MacLeod Trotter is well equipped to join Catherine Cookson on the North East writersí role of honour Janet MacLeod Trotterís third novel on the hardship of First World War Tyneside oozes poverty, grime and sadness, but is written in a style that screams READ ME. The dialogue is sharp and the prose well chiselled."
Sunderland Echo
"Not to be put down until the last page is turned."
The Morpeth Herald
"The book is full of period and local detail, real life drama in the stories of the suffragette movement and the First World War, human dramas ranging from treachery, cruelty, infidelity and illegitimacy to a spot of lesbianism...The result is a well-researched, highly readable and efficiently written drama with no shortage of dramatic incident. The most successful part of the novel is probably the account of Maggieís imprisonment...at this point the authorís careful research and obvious abhorrence of the force feeding inflicted on hunger strikers combine to produce a traumatic but compelling and utterly convincing chapter."
Northern Review
"A heart-rending North-Eastern saga from the younger generationís answer to Catherine Cookson...Donít miss this chance to discover this brilliant storyteller - youíll be hooked!"
World Books
"Trotter recreates the grit, hardship and struggle of an under-class, and clearly pictures the pride, hypocrisy and also genuine humanity of this era. The Suffragette is a moving picture of a young life devastated by outside influences."
Bradford Telegraph and Argus
"...the saga tells the heartbreaking, moving and passionate story of a stubborn, self- willed womanís battle for personal freedom."
Jersey Evening Post
"...this is Trotterís third saga novel and, as usual, is invested with the warmth of her storytelling style."
Teesside Evening Gazette
Readers Comments:
I have never read a book by you before, my mother gave this one to me and I couldn't put it down, I read it in two days even going without my lunch it was beautifully written and a great pleasure to read, I felt as if I was there with Maggie in prison it was horrific how they were force-fed thank goodness I always vote, as it was through their sacrifice that I am able to, many congratulations and I am now going out to find another of your books to read.
J.H.
This book is the best I ever read because I learnt and read about them at school in history - about votes for women, so I was interested. When I got my copy of your novel the suffragette I read it right away. This one was wonderful - very moving and a strong atmosphere - I couldn't put it down till the end. It was excellent - one of the best books.;
G. Innes, Newcastle.
I am in the middle of reading the above book, it is the first time I have read one of your books and it certainly wont be the last. I have been recommending your book to family & friends and I can't wait to read the rest of them. I come from Dunston, Gateshead and was thrilled when Dunston got a mention.
My very best wishes to you and I look forward to reading many more of your books.
Norah Crow (Mrs.)
The book was wonderful - couldnít put it down and read it all in one go! Each of your books seems better than the last. I have a complaint - it cost me a fortune in hankies!
S.C. - Northumberland, England.
Just to say thank you for another magnificent novel. I have just finished The Suffragette. It strikes me as even more powerful than your two earlier novels. How greatly I admire your insight into human beings and your compassion.
C - Durham, England.
I'm very sleepy today as I stayed up till 4am reading The Suffragette - I couldn't put it down - a wonderful book. I cried at the end. Is there going to be a sequel?
H.B. - Peebles, Scotland
We all enjoyed reading your book The Suffragette. My daughter's comment was 'couldn't put it down - what an education'. My granddaughter said she never knew anything about that part of history, she was never taught anything about the bravery of those women who we have to thank for all the freedom we have now.
N.W. - Northumberland, England.
I have read The Suffragette and really enjoyed it - Iím now eagerly awaiting your next novel. Keep writing...
C - Durham, England.
I have read your book. Have enjoyed every minute of it. Trust you are working on a new one...will be looking forward to it. One woman came up to me at the Detroit (Highland) Games and said she was three-quarters of the way through the book and could hardly put it down. She had truly enjoyed it.
C - Michegan, USA.
We wish you luck...and can tell you that The Suffragette is very popular at Brandon library! Best Wishes. Brandon library,
Durham, England.
I am delighted that you are doing so well in your writings. I do enjoy a good read and I certainly get it from your books.
N - Edinburgh, Scotland.
I just wanted to let you know how much I enjoyed your latest book. You held my interest from beginning to end so that I felt I had to keep on reading. I felt quite bereft when I had finished it and eagerly look forward to your next book.
M.C. - Durham, England.
While browsing in our local bookshop the other day I spotted The Suffragette by an up and coming young (well...) North East writer and promptly handed over some dosh and dashed home to read it. Iíve just finished, wiped away the occasional tear away and thought I should write and congratulate you on another cracking good story. Itís great to see you doing so well and Iím looking forward to your next book. When I bought the book I mentioned it to a friend at work and subsequently lent her The Hungry Hills which she returned 2 days later having devoured and thoroughly enjoyed. From one of your fans.
R - Inverness, Scotland.
If you would like to write to Janet by e-mail with your comments about this or any other book, please use this e-mail link: janet@janetmacleodtrotter.com or Contact Form