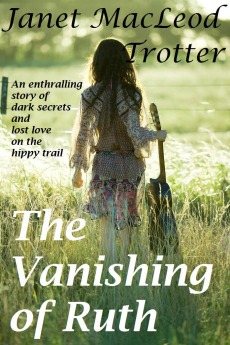 #ad

#ad
THE VANISHING OF RUTH: an enthralling story of dark secrets and lost love on the hippy trail.
Available as an e-book (published by MacLeod Trotter Books) ISBN 978-0-9566426-0-8
Available as a paperback ISBN 978-0-9566426-1-5
Available in large print, published by Magna ISBN 978-0750536271
Available to buy on-line for Amazon Kindle from Amazon.co.uk and Amazon.com
Available to buy on-line for most other e-book readers from Kobo
1976: friends, Marcus and Ruth, go missing in Afghanistan during an overland bus trip to Kathmandu. A generation later, Ruth's niece Amber, haunted by the disintegration of her family, determines to get at the truth of their disappearance. Was it murder, as her father suspected, or a suicide pact as the police believed?
Tracking down the trip's bus driver, Cassidy, Amber starts to piece together a lost world - the mystical vibrant hippy trail to India – and colourful characters like Juliet, who imagined herself the reincarnation of an Edwardian traveller. As the mystery surrounding her aunt and the charismatic Marcus unfolds, Amber begins a journey of discovery of her own, that leads her not only into the dark secrets of the past and lost love, but face to face with a tragedy much closer to home.
Bonus content:
Interview with the author about her own overland adventure as an 18 year old that inspired the story
Discussion notes for reading groups
Reading Groups' praise for The Vanishing of Ruth:
'Loved the book – couldn't put it down!'
'Wonderful. Kept me guessing all the way through.'
'A most enjoyable read, with so many interesting characters and very good descriptions of the areas visited. The end was an interesting surprise. Thank you for a captivating read.'
'I love split-time storylines and this was perfect.'
'I thoroughly enjoyed this journey through time and distant lands without leaving the comfort of my armchair. The contrast between the Victorians, the hippies and the modern day was fascinating.'
'It would make a fabulous screenplay - the split stories, great characters, wonderful locations and a well-resolved murder mystery at its heart - and there was a lot enthusiasm in the room for the idea!'
'I would strongly recommend this book as a good read.'
Readers' Reviews of The Vanishing of Ruth:
'Sights, sounds and atmosphere of the overland journey eastward during the 1970s are vividly evoked in Janet MacLeod Trotter's gripping new novel.'
Camden New Journal
Thank you for a riveting read. Have enjoyed the book very much. I'm not usually a fan of flashbacks but this makes sense of the story and I felt that you were sitting with Amber listening to the evidence.
Thank you again. M Coull, Edinburgh
The book was spellbinding!
J Farr, Newcastle
'Just finished The Vanishing of Ruth. Thought it was brilliant - as did my friend and my daughter-in-law. Keep them coming!'
E.M. Newcastle.
'I couldn't put the book down until I had finished it. It is really gripping and what a great deal of knowledge you have on Afghanistan and Pakistan et al. All the geography and the history as well as the archaeology - the book is almost a travelogue as much as an amazing mystery story. You certainly have the gift of telling a story and keeping your audience riveted.'
D.K. Hampshire
'Thoroughly enjoyable read. Lots of good intrigues and revelations. A top mystery.'
T.M. Cumbria
'What a rollercoaster ride – take your seat on the bus to Kathmandu and be prepared for many mysterious twists and turns on the way. I could not put this book down. Janet MacLeod Trotter engages you fully in the lives of the lead characters. You are with Amber every step of the way as she unravels the story of her Aunt Ruth's bizarre disappearance. You worry for driver Cassidy, as he tries to guide his hung-over passengers on the 1970s overland route to the East, and hope that he builds up enough 'Dutch' courage to declare his love for Juliet. This is a perfect winter book, which will waken the wanderlust in even the most jaded traveller.'
P.D. Norfolk
'I loved the book! You have so many details completely right, it really made me laugh in some places. Really glad I bought it.'
O.C. London
'Am enjoying your book so much. Keeps me in bed when I should be up and awake when I should be asleep!'
M.S. London
'Brilliant. I loved 'Ruth' and it was so well researched I learnt masses.'
M. M. London
'Had to go to bed early several nights last week, not just because it was chilly but because I wanted to get on to the next bit - whether that was a snippet from a Victorian travelogue; some astute weaving of fact & fiction into great descriptive bits or simply the latest unforeseen hairpin bend in the plot …'
D.G. Whitby
Well, I was going to send an email of complaint...... once I started this book I could not, would not, just did not want to stop reading it. I got cross with life when it got in the way of my reading time. It's only taken 2 days to read it but all the housework I was determined to do hasn't even been started, hence the complaint.
However, I now want to thank you and this book for helping me to develop new skills. I can load and empty the washing machine whilst still reading, empty the dishwasher, putting everything away in the correct places. And then the crowning glory of my new-found skills I made last night's meal while continuing to read your fab book.
Jan, I love this book. I didn't want to put it down, I wanted to know what happened next, I wanted to know how it all ended but I also knew I would have that awful sense of loss when I did finish it. I did, I went to sleep last night feeling happy/sad. Now what do I do? The Vanishing of Ruth is FAB. Thank you so much for writing it.
S.E. Northumberland
To read the first two chapters of The Vanishing of Ruth click here **
** Requires Adobe Reader - use button below to download Adobe Reader software.

The Vanishing of Ruth – E-book
Available to buy on-line for Amazon Kindle from Amazon.co.uk
and Amazon.com
Available to buy on-line for most other e-book readers from Kobo
If you would like to write to Janet by e-mail with your comments about this or any other book, please use this e-mail link: janet@janetmacleodtrotter.com